Quilt Festival
The 2019 Kansas City Regional Quilt Festival is happening this week (June 13 thru 15) at the Overland Park Convention Center. Check out there Facebook page for details facebook.com/kcrqf or their website at kcrqf.com. The Quilted Sunflower will be open during the festival. Come by and visit and tell me all about it.


---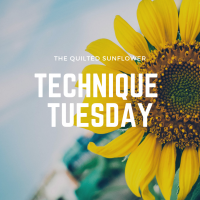 June 18th Miniture 4 patch (1/2") June 27th - Mats for Homeless
10am to 1pm 10 am to 5pm



---
Thoughtful Thursday


We started in January 2019 with a program called Thoughtful Thursday. Meeting at the quilt shop on the 4th Thursday of the month to make items needed. January we made pillowcases for Children's Mercy Hospital. February we made peanut pillows for St. Luke's Hospital.



What is next? I have spoke with many organizations and found there is a need for handmade.

We will continue the make pillowcases, if you make on your own just get these to me and I will deliver. We will also continue to make peanut pillows. As St. Luke's has a need for at least 100 per month. If you would like to join the fun I have patterns for both. I would be happy to mail either or both of these patterns to you if you wish to sew at home.

---

Classes

Jaybird Quilts Nourish June 11- 9:30 am to 2pm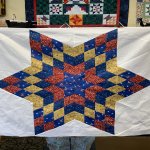 Binding Tool Table Runner - Table Runner June 17 10am to 1pm





Count on It Monthly Small Quilt July - June 20 1pm to 4pm






Card Class June 25 11am to 8pm



Thoughtful Thursday Charity Sew day June 27 10 am to 5pm





Check out the Website for further details. Please call or stop by the shop if you have questions. Class must be paid for prior to the class day.
---
---
---
What's New Wednesday

Every Wednesday at 1pm on our The Quilted Sunflower Facebook page we will have a Facebook Live!


---
We are fortunate to be located in Spring Hill's Historic Main Street. We have several wonderful shops joining us here. When you come to shop the great shops take a little time to shop some amazing boutiques.

Lee's Front Porch - Clothes, Decor, Baby, Gift Items
Berry Branch Antiques - Antiques, Decor, Gift Items
The Bean Coffee Co. - Coffee, Teas, Smoothies, and Wonderful Food
Collar Pet Boutique - Amazing food and treats for your pets, CBD oil, collars, leashes, toys
Skinner Chiropractic - Accupuncture, cupping, Vitamins, supplements
Vaughn's Fire Farm - Goat Milk Soap, Essential Oils, Furniture Opening Soon
The Creative Place - A Retreat facility (quilts, knitting, rug hooking, etc)

---
Every Friday is Free Sew Friday - Join the fun and sew as long as you like. Starts at 10am. Call and reserve your spot.



---


Shop hours are Monday, Wednesday, Thursday and Friday
9:30am to 5:30pm
Tuesday
9:30am to 7pm
Saturday
9:30am to 2:00pm
Sunday
Closed


The Quilted Sunflower
111 S Main St
Spring Hill, KS 66083
913-592-0100
www.thequiltedsunflower.com
thequiltedsunflower@gmail.com

Just a reminder that you're receiving this email because you have expressed an interest in The Quilted Sunflower.