Happy 2019


We have a lot of plans for 2019. Classes are on the website for January and beyond. Stay up to date by following us on Facebook as well as thru the newsletter. We are beginning with many new thing. Technique Tuesday, once a month we will share a technique and explore it hands on. Count on it - A once a month small quilt raw edge applique. Thoughtful Thursday - Several times during the year we will have a charity sew day, plans are for pillowcases for Children's Mercy and many other projects. Mini Monday - several Mondays this year we will work on a wonderful mini quilt, hone your skills on these fun mini quilts. We have many other fun classes planned as well.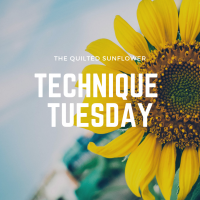 Beginning Piecing Table Runner January 12 and 19 - 10 am to 2pm



Technique Tuesday Perfect Circles January 15th - 10 am to 1pm





Count on It Monthly Small Quilt February Heart - January 17 1pm to 4pm




Hand Quilting January 21 10am to 1pm

Card Class January 22 11am to 8pm

Thoughtful Thursday Charity Sew day January 24 10 am to 3pm

Cherry Picken January 30 10 am to 2pm




Check out the Website for further details. Please call or stop by the shop if you have questions. Class must be paid for prior to the class day.
---
---
---
What's New Wednesday

Every Wednesday at 1pm on our The Quilted Sunflower Facebook page we will have a Facebook Live!


---
Catch a glimpse of what's new!




Rustic Rooster Bluebirds on Roses
---
Every Friday is Free Sew Friday - Join the fun and sew as long as you like. Starts at 10am. Call and reserve your spot.



---


Shop hours are Monday, Wednesday, Thursday and Friday
9:30am to 5:30pm
Tuesday
9:30am to 7pm
Saturday
9:30am to 2:00pm
Sunday
Closed


The Quilted Sunflower
111 S Main St
Spring Hill, KS 66083
913-592-0100
www.thequiltedsunflower.com
thequiltedsunflower@gmail.com

Just a reminder that you're receiving this email because you have expressed an interest in The Quilted Sunflower.